Mike Pound – Managing Director
Mike trained as a systems analyst with the Ministry of Defence, before becoming IT procurement manager for the Employment Department.
He then moved to head up the government division sales team of Apricot Computers plc (later to become ACT). Mike left to establish Qualsys with colleague Mike Bendall.
Contact Mike: mike.pound@qualsys.co.uk
Robert Oakley – Commercial Director
Robert has responsibility for the commercial operations of Qualsys, including sales, marketing and finance.

Since joining Qualsys in September 1998 – after a 17-year, board-level career in the leisure sector – Robert has helped develop the business to its current position with a portfolio of bluechip customers, a healthy recurring income stream and a solid foundation for future growth.
Contact Robert: robert.oakley@qualsys.co.uk
Mike Bendall – Business Mentor
Mike joined Apricot Computers plc in 1984, going on to fill a variety of senior positions. In 1990, after the company had become ACT, Mike progressed to the position of business development manager, securing large consultancy and service contracts with a multitude of government departments.
Mike left ACT in 1995 to establish Qualsys with colleague Mike Pound, negotiating with Parity Solutions Ltd for the rights to the EQMS software; the core system of the Qualsys business.

Contact Mike at: mike.bendall@qualsys.co.uk
Michael Ord – New Business & Marketing Director
Michael joined Qualsys to help develop / implement a new digital strategy, engage the user community and expand EQMS into new sectors and markets.

As New Business & Marketing Director he is responsible for new customer success (acquisition and onboarding) and helping our customers maximise the value of their EQMS solution.

Michael is an IRCA Internal Auditor. He has a MSc Marketing Management, is a Member of Chartered Institute of Marketing (MCIM) and a Member of Institute of Enterprise and Entrepreneurs (MIOEE). In 2011, he was voted as one of the '42 under 42' by Business Insider Magazine.
Rob Needham – Technical Director
Rob originally joined Qualsys on an internship as part of his degree in computer and management sciences at Sheffield Hallam University. On graduating in 2001, Rob joined Qualsys' permanent staff, immediately taking responsibility for managing the company's own IT infrastructure. Rob's aptitude for grasping new technologies and practically applying them saw rapid career progression over the following years.

Rob now has direct responsibility for managing the Qualsys development effort and co-ordinating its team of developers. Rob still finds time to work closely with customers translating their business needs into solution designs.

Contact Rob at: rob.needham@qualsys.co.uk
Chris Owen – Services Director
Chris joined Qualsys in 2015 following a ten year career in the financial sector. Chris' wealth of experience with GRC solutions, system implementations, and project management made him a great fit for the Services Team. Chris was promoted to Services Director in 2017 and is now responsible for managing the Services Team delivery of end-to-end EQMS services. Chris has a strong ethos of PEOPLE first and this is strongly reflected in the quality and delivery of all EQMS services.
In his spare time, Chris enjoys 'trying' to playing golf and spending time with his young family.
Contact Chris at: chris.owen@qualsys.co.uk
Isabelle Pound – Strategic Projects
Isabelle trained as an analyst programmer, moving into IT service delivery and management. She later applied her breadth of systems planning and delivery knowledge to IT systems project management.
She has managed end-to-end delivery of numerous IT projects for both government and corporate organisations, and moved to Qualsys to oversee end-to-end delivery of EQMS.
Simon Wells – Training Manager
Simon's vast experience in information technology was forged in a 20-year career with the British United Shoe Machinery Company. Having initially trained and worked as a programmer, Simon moved into network support and later into project management. A postgraduate diploma in project management helped Simon guide the business through its Millennium project and many other initiatives. Simon joined Qualsys in April 2001, beginning by heading up the customer support function before taking on his present role as training manager.
Simon designs, builds and delivers the company's training courses. He also liaises closely with the support team to ensure courses meet customer needs and he contributes avidly to the system design team to ensure the need for training is minimised.
Sarah Bentley – Administration Manager
Over 20 years' experience of finance and administration in a variety of companies – including manufacturing, care homes, and toy importation – Sarah is responsible for finance & administration at Qualsys, playing a key role in most departments.

Outside of work Sarah likes to travel and ski, moonlighting as a ski instructor. Why should someone contact her? Because she's brilliant!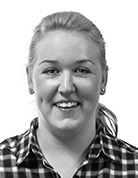 Hollie Walker - Office Administrator
Hollie provides essential support to all of the team, helping with finance and administration. To contact Hollie, you can email her on hollie.walker@qualsys.co.uk.
Chris Webster
Having recently joined Qualsys as Operations and Infrastructure Manager, I am looking forward to working in a new environment, meeting new people and facing new challenges. I have over 19 years of IT experience working in the healthcare sector in a number of customer facing and technical roles, before moving into management.

In my spare time I enjoy being outdoors with my family, football and playing golf.

Contact: chris.webster@qualsys.co.uk
Kate Armitage - Product Quality Assurance Manager
Kate joins Qualsys as a software Product Manager. She joins us with over 15 years' experience in IT Solution Delivery and Quality System Management. Kate will be coordinating a number of exciting new projects, working closely with our new and existing customers and our development team to progress EQMS. Not one to sit quietly in the corner, Kate wears her heart on her sleeve and gets stuck into every project. She is looking forward to applying her skills to a new challenge and getting to know the Qualsys team. At the weekends you will find Kate hiking in the Peaks, knee-deep in mud, with a flask of tea and a slab of flapjack. To contact Kate, you can email her on kate.armitage@qualsys.co.uk.
Paul Morrell – Software Development Manager
Paul graduated with a BEng (Hons.) in electronic engineering from Leeds University in 1991, following this up with an MSc in communications, control, and digital signal processing from the University of Strathclyde. Paul joined Peak Systems Design in Sheffield as a developer and became an expert in the development of process control systems to manage large industrial manufacturers.
Paul was headhunted by Qualsys in January 2009 and now leads a team that is focussed on continuously improving the usability of the EQMS application, providing richer functionality but maintaining the company ethic of building easy-to-use systems that can be used by any staff.
Phil Entwisle - Software Development Manager
Phil joined Qualsys as a Senior Software Developer to introduce new technologies and develop products in the EQMS portfolio.
Previously Phil worked for a large regional law firm where he was responsible for software development. In this role he played a key part in various strategically important projects and helped secure new business with some major clients. Prior to this Phil developed software for the lead supplier to the automotive aftermarket industry.
Phil has a degree in Computing and is Microsoft certified. Outside of work he enjoys Cycling, Photography and Skiing.
Stephen Brown – Mobile Development
Steve joined Qualsys after graduating with a BSc (Hons) first class in games software development from Sheffield Hallam University in 2012, where the challenging experience of working with Sony's Playstation SDK has given him the skills necessary to explore and harness new technologies at the forefront of the industry.
Something he looks forward to applying as he joins the team to help update the current system and drive forward the systems usability and accessibility.
Sam Rumley - Software Developer
Sam graduated from Sheffield Hallam University in 2013 with a masters in Computer and Network Engineering. Before joining Qualsys in June 2016, Sam spent several years developing advanced healthcare systems. Now, Sam will be optimising the EQMS modules to deliver industry-leading GRC solutions for our customers. Contact Sam: sam.rumley@qualsys.co.uk
Ben Marshall - Software Developer
After graduating from Sheffield Hallam University with a BSc (Hons) first class degree in Games Software Development, Ben went on to get an MSc in the same field.
He joined Qualsys in early 2015 after two years working in the games industry. Looking for a new challenge and wanting to return to Sheffield, Ben joined the team to continue the development of the EQMS software.
Dan Hollis – System Implementation Manager
Following his university course in countryside management and a subsequent two-year managerial role with one of the UK's major forces in retailing, Dan began looking for a new challenge. He joined Qualsys in September 2005. Initially, Dan's interest in technology was rewarded with a technical support role.

Dan's responsibilities grew and he became a key support contact to many of the company's major clients such as BT, Diageo, Chevron Corporation and others. Dan now retains much of his customer-facing role, liaising with many of Qualsys customers' IT teams. He also has taken overall responsibility for handling the technical implementation of EQMS systems on all customer IT platforms. Dan has rapidly acquired a vast knowledge of server configuration, industrial-strength databases and cloud computing.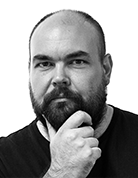 Ryan Peplow - Installation Specialist
With nearly 15 years IT experience Ryan's skills range from SQL scripting to Network Infrastructure management and everything in between. Ryan's understanding of how technology fits into the day to day operations of a business makes him an invaluable part of the Qualsys team. With his ability to quickly analyse issues and formulate a solution you can rest assured your problems will be dealt with efficiently and effectively.

In his spare time Ryan enjoys playing the Piano, Landscape Photography and re-homing orphaned cats.
Jannik Bramford – Application Support/Installation
Jannik joined Qualsys in 2015 as part of the EQMS installation support and infrastructure team.
Before Qualsys, Jannik was a Cisco Certified network engineer & co-owned a computer repair and web design business. Whilst working there he gained excellent experience in network & business management, various coding languages and a good knowledge of SQL servers and scripting.
Out of office hours, Jannik enjoys watching ice hockey & football, LAN gaming and is part of a team searching for the Loch Ness monster.
Hamish MacSween - Product Tester
Hamish joined up with Qualsys after completing a 40 year career in the International Drinks Industry with Diageo plc. He started working with 'Johnnie Walker' in the Export Department and continued working for the Company continuously throughout a number of mergers carrying out various Export and Project Management roles. In his final role for Diageo as Business Management System Manager, he lead a Team who selected, developed and project managed the roll-out of EQMS which is used as the core Compliance Management support system across the many Scottish Supply sites.
Having spent many years in a customer environment Hamish is able to provide alternative valuable input at Qualsys sessions and his long term EQMS user experience is effectively utilised to support our software testing as part of our Systems Support Team.
Jayney Needham - Service Implementation Support
Jayney first joined Qualsys in 2008 on a part-time basis providing support to assist with accounts and invoice management. After a career move into publishing, marrying, and two children later Jayney re-joined the team in May 2015 providing support and assistance to the Services team and Office Manager.

Prior to returning to Qualsys she spent 11 years in the publishing industry as an accounts and office manager in addition to diverse roles spanning Floristry, Nursing, Holiday Representative to Hotel Manager. Jayney loves a new challenge and is looking forward to expanding her role within Qualsys. Away from work Jayney spends most of her time with her family (husband, 2 small children and a dog).
Declan Webster - Service Implementation Manager
After four years working with quality systems and procedures in the world of engineering, Declan brought his practical knowledge and experience with him to become part of the Qualsys team.
In his spare time Declan is interested in writing and filmmaking.
Dave Beard- Service Implementation Manager
Dave achieved a First Class honours degree in Computer and Network Engineering from Sheffield Hallam University. With 13 years' experience implementing software and supporting the network infrastructure for an NHS supplier, Dave will be managing the end-to-end implementation of EQMS for a number of Qualsys' new customers. Dave is really looking forward to learning more about EQMS and delivering a seamless implementation.
Contact Dave: dave.beard@qualsys.co.uk
Mark Brook - Service Implementation Manager
Mark manages the end-to-end implementation process of EQMS, making sure that the system is configured to best fit our client's requirements. He has over 15 years' experience in technical roles, implementing solutions for the NHS and other highly-regulated and complex-structured organisations across the globe. In his spare time, Mark enjoys CrossFit, watching Sheffield United and spending time with his family.
Contact Mark on: mark.brook@qualsys.co.uk.
Assad Toor - Service Implementation Manager
Over 8 years' experience implementing services and software into the Postal and Workforce Management industries. I hugely enjoy working closely with customers and providing one-to-one and classroom lead training. I am looking forward to working in the Governance, Risk and Compliance industry and living and working in Sheffield. In my spare time I enjoy playing pool and watching football – and family time!
Liam Pollard - Service Implementation Manager
Liam is a key member of the service implementation team, helping to train and configure EQMS for our new customers.
Shirley Kong - First Line Support Manager
Shirley graduated with a dual-honours degree in French and Spanish. Since then, she has worked with a wide range of people in the leisure and tourism industry, developing her exceptional customer-facing skills.
Shirley finally decided to settle in Sheffield and has assisted on the DWP account helping to implement IT across the estate for nearly eight years. In early 2014, she joined Qualsys on first-line support to put a smile on customers' faces and help meet the demand of a thriving business and ever-growing global clientele.
John Scholey - Support Engineer
For the past 10 years, John has worked in various customer service roles with RSPCA, BMW, and Planet X and has been working in IT for around 20 years IT. John is looking forward to streamlining the customer experience. In his spare time, John enjoys medieval combat sports, leatherworking, animal welfare and gaming.
Gemma Baldan - Key Account Manager
Since graduating, Gemma has worked in a range of businesses. Past successes have included leading a team during a successful business exit, doubling company turnover in just two years. In her later experience she was co-founder of a Sheffield based tech start-up.
Gemma joined Qualsys' sales and marketing team early in 2012. Her role is customer focussed, with a passion to help grow the business on an international scale.
Lynne Gregory – Account Manager
Lynne trained as an analyst programmer and worked in this field for several years before relocating to Switzerland. For the next 10 years she worked for a pharmaceutical company, initially being responsible for integrating all the European depots into a central database.

After successfully completing this project Lynne went on to lead the team converting the company to using SAP, eventually integrating the US and European sides of the company. Lynne's responsibility at Qualsys is to support clients with the implementation and training of EQMS.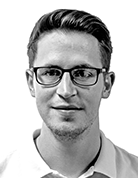 Jamie Rose - Account Manager
Jamie has joined the Qualsys team in 2016 to develop strong relationships with our existing customers and identify new opportunities to help our customers to achieve their goals. Jamie is looking forward to helping customers to make the most out of EQMS and work with them to embed quality into their company cultures.
Outside of work, you'll find Jamie on the golf course.
Contact Jamie: Jamie.Rose@qualsys.co.uk
Atheal Alwash - Sales and Account Executive
Atheal leads the pre-sales function at Qualsys Ltd and also provides NHS account management at the company. He is passionate about providing a tailored solution to his customers' requirements and representing the company.

Atheal has worked in the healthcare and construction sectors providing bespoke, manufactured solutions and technical services in sales, account management and marketing positions. He has also implemented a CRM system within a PLC company. Holding a Diploma in Medicine from Newcastle University, Atheal understands the necessity for careful analysis and meticulous attention to detail when it comes to all aspects of our work.
Alex Swan – New Business Development Manager
Alex helps quality professionals who have contacted Qualsys to overcome the GRC challenges they face in their organisation. He goes the extra mile to ensure our prospective customers have the resources and information they require to achieve success, spending much of his time traveling across the UK to deliver presentations and supporting customers through their EQMS implementation. Alex is looking forward to championing the "Grow By Case Study" company ethos and helping more companies to deliver tangible results with EQMS. Outside of work, Alex is often whizzing across the county on his road bike.
Contact Alex to discuss your GRC challenges: alex.swan@qualsys.co.uk.
Marc Gardner - PR and Communications Executive
Marc joined Qualsys in May 2017. A journalism graduate from the University of Sheffield, Marc worked as an editor and proof-reader for Plain English Campaign in Derbyshire, before moving on to roles with Brahm, a Leeds-based marketing agency, and the Sheffield law firm Nabarro, where he specialised in document production. Marc's strengths lie in content-writing but he is keen to widen his knowledge in other areas of marketing. Outside work, Marc has a passion for books, cinema and TV, and enjoys the labour of writing scripts.
Contact Marc to discuss PR and Communications opportunities: Marc.gardner@qualsys.co.uk.
Emily Hill – Digital Marketing Executive
After graduating from Sheffield Hallam University with a BA (Hons) First Class degree in Marketing Communications and Advertising, Emily led the SEO, PPC and social media function at a marketing agency in Sheffield. Emily has also worked in a marketing role for a private jet chartering company, au paired in France and worked on a campground in the USA. Emily joined Qualsys in August 2015 and is looking forward to growing the inbound digital marketing activity.
Contact Emily if you have any news, content suggestions or affiliate marketing requests. Contact Emily:
Emily.hill@qualsys.co.uk
Ben Hollis – Digital Designer
Ben joined Qualsys in November 2007. Following a degree course in fine art at the University of Lincoln, Ben indulged his passion for art, producing award-winning comic books and painting in oils. As well as selling his paintings and producing several notable commissions, Ben developed a growing interest in digital media and web design. Ben embraced emerging technologies and his artistic bent and eye for detail caught the attention of the Qualsys team.
He now has responsibility for the company's website and digital marketing campaigns.
Back to top...